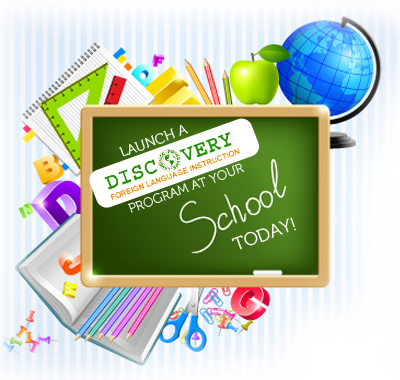 Discovery Language Programs can tailor a language program for you.  It's easy to start a program at your school, simply fill out our Contact Form. A coordinator from our offices will contact you and take care of arrangements and communication with school administration.
Through Discovery Language Programs your child can experience different cultures and build their language skills. Students can interact with various languages through games, songs and interactive activities. The skills that they'll develop today will help them through high school, college and beyond.
Upon selection of the day(s) and time for the classes, Discovery Language Programs will prepare enrollment forms for all eligible students. The forms are distributed at the school and are returned to the school office with payment approximately 7-10 days later (sample form provided upon request). Discovery Language Programs handle all administration.
Standard class size is 8-14 students per language. Whenever possible, students are divided by grade and ability levels.
The length of our program varies. The longest program runs for 22 weeks and covers the whole school year. Twelve and fourteen week programs are also available. An eight-week pilot program can be initiated at any time during the school year.
At the beginning of the program, each child receives a schedule with the dates that class will be held in accordance with the school calendar. If a class is cancelled, and additional class is added to the end of the session and a revised schedule is sent home. The school office also receives copies of each class list and calendar.
.
Teachers are to arrive 10 minutes prior to the start of class and must stay until the last student is picked up. All teachers are specifically instructed to never leave a child unattended at the school.
Discovery Language Programs' teaching staff is carefully selected. Teachers are fluent in English and the target language. They are either native speakers, have lived extensively in a foreign country, or have a degree in the language they teach. While we do not require certification, over half of our teachers are certified. If not certified some form of teaching experience is required. Regardless of experience, all teachers are trained in the Discovery Language Programs method. As of today, we have over 100 teachers on staff. All teachers are evaluated periodically by a supervisor. Aspects of evaluations consist of lesson preparedness, use of games/movement, use of target language, students' knowledge of the material, pronunciation, participation/interaction, discipline, and enthusiasm.
Communication between the Discovery Language Programs instructor and the parents is an important part of our program. On the first day of class, parents receive the home phone number of their child's teacher and are encouraged to call with any questions or concerns. Parents may observe their child's class at any time. Discovery Language Programs instructors send parents weekly emails about what is going on in class, homework for that week and what the students need to bring. Mid-way through the program Discovery Language Programs will prepare a parent survey to inquire about their opinion of the program, their child's learning of the language, suggestions they may have, etc..
Progress Reports are sent home mid-way and at the end of the program.
Each student receives a workbook and a CD that he/she is responsible for bringing to class each week. Every unit (such as "The Family," "Food," or "Clothing") has three to four pages of fun, creative and enriching activities and a detailed vocabulary list. Each unit also provides interesting cultural notes particular to the way of life in the country where the foreign language is spoken. Students also receive a CD which coincides exactly with the topics covered in class and is a great tool for home reinforcement. Additional handouts are distributed over the session to cover currents events, holidays, etc.
At the end of the session, we encourage the students to go on a "field trip" with the teacher to an ethnic restaurant. Parents and siblings are also invited to attend. This is an enjoyable activity in which the students can experience the language and culture first-hand.
Summer camps are available. They offer 1 week and 2 week long courses. The 1 week course is 4 hrs each day, held Monday – Friday. The 2 week course is 2 ½ days a week, held Monday through Friday. Please, use our Contact Form to inquire about Summer Programming. Also, to learn more about what Summer Programs is all about, please click here. 
Discovery Language Programs carry liability insurance. A certificate of insurance will be provided upon request.